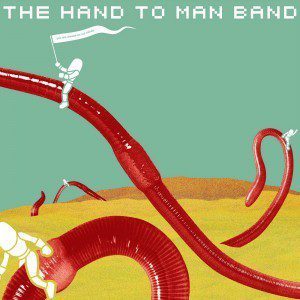 PRE-ORDER LP or CD!! Physical release date has been moved out to 6/12. Digital download available now HERE or complimentary with order of LP or CD.
Download a free song from The Hand To Man Band along with a handful of other goodies from Post-Consumer Records HERE
Tim Barnes (skins on Silver Jews, Jim O'Rourke, Text of Light)
John Dieterich (guitarist for Deerhoof, Natural Dreamers)
Thollem McDonas (legendary solo pianist, member of Tsigoti, collaborator with Stefano Scodanibbio, Nels Cline, etc ad infinitum)
Mike Watt (fIREHOSE, Minutemen, spielgusher,  et al)
Veering between the tightly woven and the completely unhinged, trading deep gulfs of ponderous melancholy with gentle, fractured pop fairytales, The Hand To Man Band keeps the listener guessing without ever completely abandoning their own special brand of earthy hall-of-mirrors music.