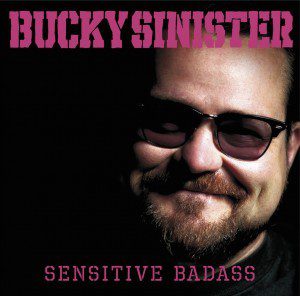 PCR-001 // Release Date: 2-28-2012
TWITTER / FACEBOOK / WEBSITE / TOUR DATES
Our Favorite punk rock poet is back and better than ever! He's finished off his latest record "Bucky Sinister – Sensitive Badass" in the studio with Nicholas and I can't lie, it's BADASS. Hot on the heels of his new book Still Standing this record is way more than a companion piece and possibly one of his greatest works of art to date. Here's a few words from the man himself:
In 1987, I found out about The Butthole Surfers, Einsturzende Neubauten, Diamanda Galas, William S. Burroughs, the Swans, Tom Waits, Nick Cave, and Husker Du in under an hour. Long before people fileshared MP3s, we borrowed records and made cassette tapes. The record in question was the Smack My Crack compilation, released by John Giorno on his Giorno Poetry Systems label. It was one of those mind-blowing moments where I knew my life was suddenly different.

So I took the record back to the weird guy down the hall and said I needed more, specifically of this old guy (Burroughs). From there I heard Ken Nordine, The Last Poets. Jello Biafra, Lydia Lunch, Exene Cervenka, Jim Carroll, and Henry Rollins.

I'd like to thank weird guys down the hall from every college dorm for turning people like me on to cool music, comics, books, and movies. That same year I found out about Frank Miller and saw A Clockwork Orange on Betamax.

I'd like to thank that weird moment in the punk scene that allowed for the subset of spoken word artists to play between bands. It failed more than it worked but I loved every minute of it.

I'd like to thank all of the unknown poets out there, the ones who were never published or with no books in print, who inspired me in cafés and little bars all over San Francisco back in the day. I learned to write from you guys. You taught me how to be honest on the page. I miss you guys, and think about you often.